MONTES LIMITED SELECTION CABERNET - CARMENERE 2018
Country: Chile, Colchagua Valley.
Grape Varieties: Cabernet Sauvignon 70%, Carmenère 30%.
AWARDS
James Suckling: 92/100

Vineyards:
The vineyards that give rise to our Limited Selection Cabernet Sauvignon-Carmenère are located in two representative wine regions of the Colchagua Valley: Apalta and Marchigüe.
Apalta is heterogeneous, with some zones strongly influenced by the nearby Tinguiririca River and others by eroded material from the mountains above. The soils tend to be deep on the plain and shallower at the foot of the mountain and in higher areas. The Cabernet Sauvignon vineyards are planted at the foot of the mountain on slopes that are not very steep but which do have shallow soils of highly variable textures. The Carmenère vineyards are best suited to the flatter areas, where the soils are deeper and have moderate moisture retention. 
Marchigüe has flatter lands and low hills with moderate slopes. The soils are rather shallow, and in some areas are no more than 60 cm deep, with moderate clay content and a high capacity for water retention. The Cabernet Sauvignon and Carmenère vineyards are located in flat areas with no slopes whatsoever. Our vineyards are planted at a density of 5,555 plants/hectare (2,250 pl/acre) and double Guyot managed for yields of approximately 9,000 kg/hectare (3.6 ton/acre). The Carmenère leaves closest to the clusters were severely cut back in early January to leave the grapes completely exposed to the sun, ensuring even ripening and good measures of acidity and phenolic potential.
Cabernet Sauvignon Harvest: 15 March - 30 AprilCarmenère Harvest: 27 April - 15 May:
The 2018 season was exceptional, with fine conditions in both summer and spring, and average temperatures slightly lower than normal. This pushed back harvest more than expected, allowing for slower, more complex ripening processes, producing better acidity, colour and concentration than in normal years. The work in the vineyard with controlling the kilos allowed us to achieve perfect phenolic ripeness, which translated into wines with vivid colour and excellent flavours. The grapes arrived at the cellar in a healthy state, allowing for very good fermentations and a winemaking process that was unhurried, each lot receiving personalised care in order for it to express its maximum potential.
Tasting Notes:
Bright, ruby-red with intense glints of violet. The nose opens with notes of red and black fruit like plum and blackberry, together with spice, red pepper and nutmeg, which then give way to some tobacco, dark chocolate and coffee. The well-balanced and enveloping texture allows you to appreciate the freshness of the red fruit on the palate, with rounded and refined tannins that give way to a long, deep finish.
Pairing:
White Meat, Pastas, Charcuteries
Case Bottles: 12
Product Id: 0206

For orders €100,00 or more we deliver free to your place (within city limits)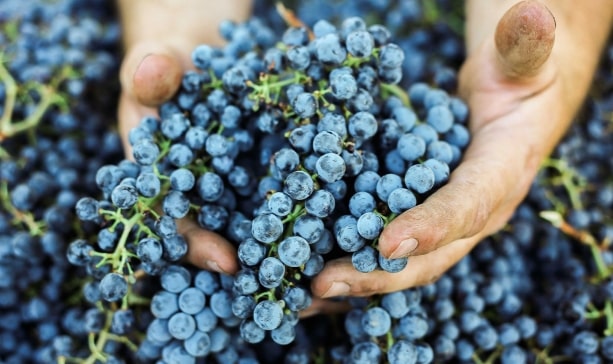 Cab.Sauvignon & Carmenère
Carménère is considered as an ideal blending partner with Cabernet Sauvignon, as well as with other Bordeaux varieties (Merlot and Cab. Franc)