MONTES ALPHA CABERNET SAUVIGNON 2017
Country: Chile, Colchagua Valley.
Grape Varieties: Cabernet Sauvignon 90%, Merlot 10%.


AWARDS
Wine Spectator: 90/100

Vineyards: The Cabernet Sauvignon vineyards that produce Montes Alpha are located in the Colchagua Valley, primarily at our Apalta Estate, with additional sourcing from our Marchigüe property. The origin of the soils in these two areas is granite at differing degrees of decomposition. Both have considerable variation in clay content, depth, and quantity of organic matter. Apalta is geologically very heterogeneous. Some sectors show the influence of the nearby Tinguiririca river, while others revealthe long-term erosion of the mountain above. The soils are generally deep in the flatter areas and thinner at the foot of themountains and at higher elevations. Cabernet Sauvignon is suited to areas that are flat or at a slight incline, where the soil isdeeper and has a moderate capacity for moisture retention. The fruit from Apalta shows very good expression of elegant and complex aromas as well as intense colour. Marchigüe is flatter, with lower-lying hills. The soils are shallow – in some cases no more than 60 cm deep – with medium claycontent and a high capacity for water retention. The vineyards are planted on the flat lands with little clay and a highpercentage of rounded stones. The Cabernet Sauvignon vineyards are planted at a density of 5,555 plants per hectare (2,250 pl/acre) and double Guyot-trained producing yields of approximately 7,000 kg of grapes per hectare (2.8 ton/acre).

Harvest: Cabernet Sauvignon harvest period: 21st March – 20th April: The 2016–2017 season was characterized by a dry winter, so we had to be very efficient in collecting water and applying our sustainable irrigation methods all throughout the season, until harvest. Only a few isolated cases of frost were recorded during the rather benign spring. The overall yield of our reds, however, was down slightly, primarily due to poor floral induction the previous year, as well as the restricted availability of water. Unusually high maximum temperatures during the summer months of January and February had a tremendous influence on the ripening process and accelerated the accumulation of sugars compared to the same period in previous years. The month of March, however, saw very cool afternoons. This decreased heat summation and improved daily temperature oscillation, which was very positive. It enabled us to wait for the tannins to ripen fully, which is especially important for Cabernet Sauvignon. The grapes reached harvest in excellent health and were picked at optimal ripeness and flavour levels.

Tasting Notes: Deep ruby-red in colour, with violet tones. The nose is elegant and complex with aromas of very well-blended ripe red and black fruit. Aromas of crème de cassis, tobacco, and black pepper stand out against a backdrop of toast and pastry notes. The palate is smooth but well-structured, which makes this wine a pleasure to drink now, but with years of cellaring potential ahead of it. Its round and near-sweet tannins balance very well with the acidity. Generous volume on the mid-palate of our 2017 Montes Alpha delivers a lasting and elegant finish.

Food Pairing: Red Meat, Charcuterie, Cheese
Case Bottles: 12
Product Id: 0015

For orders €100,00 or more we deliver free to your place (within city limits)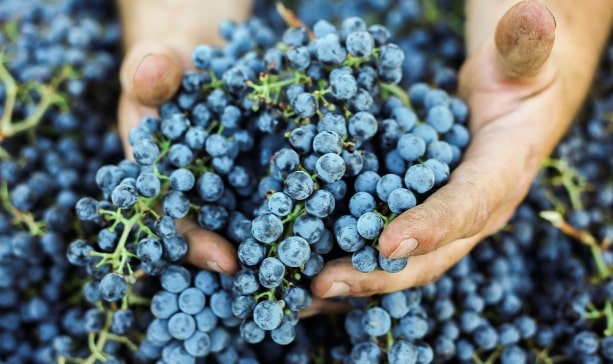 Cab.Sauvignon
The most famous red wine grape in the world and one of the most widely planted.

It is adaptable to a wide range of soils, although it performs particularly well on well-drained, low-fertile soils. It has small, dusty, black-blue berries with thick skins that produce deeply coloured, full-bodied wines with notable tannins. Its spiritual home is the Médoc and Graves regions of Bordeaux where it thrives on the well-drained gravel-rich soils producing tannic wines with piercing blackcurrant fruits that develop complex cedarwood and cigar box nuances when fully mature.

The grape is widely planted in California where Cabernet Sauvignon based wines are distinguished by their rich mixture of cassis, mint, eucalyptus and vanilla oak. It is planted across Australia and with particular success in Coonawarra where it is suited to the famed Terra Rossa soil. In Italy barrique aged Cabernet Sauvignon is a key component in Super Tuscans such as Tignanello and Sassicaia, either on its own or as part of a blend with Sangiovese.