VALL LLACH PORRERA VI DE VILLA 2018
Country:
Spain, Catalonia, Priorat
Grape Varieties: 70 % Cariñena. 30% Garnacha
AWARDS
Guia Repsol: 93/100


Vinification: 
Fermentation of the destalked grape in 2,500 and 5,000-litre stainless steel tanks. 17 days of fermentation at a temperature limited to between 25 and 29 ºC with daily pigeage and gentle remontage. 12 days of post-fermentation maceration, followed by gentle pressing. Malolactic fermentation, 100% in stainless steel tanks.
Ageing:
The wine was transferred to 300-litre barriques of light and medium-toasted fi ne-grained new French oak and foudre of 2nd year.
A racking is carried out during the breeding of 14 months.
Tasting Notes:
Dark violet cherry red colour. On the nose, it shows intense and concentrated aromas of very ripe plums, mineral notes and pleasant toasted touches. On the palate, this wine is intense, fresh and has a great acidity. Ripe Fruit, chocolate, leads and to a long finish.
Food Pairing:
Lamb
Case Bottles: 6
Product Id: 0417

For orders €100,00 and above we deliver free to your place
For orders below €100,00 delivery charge €10,00
within city limits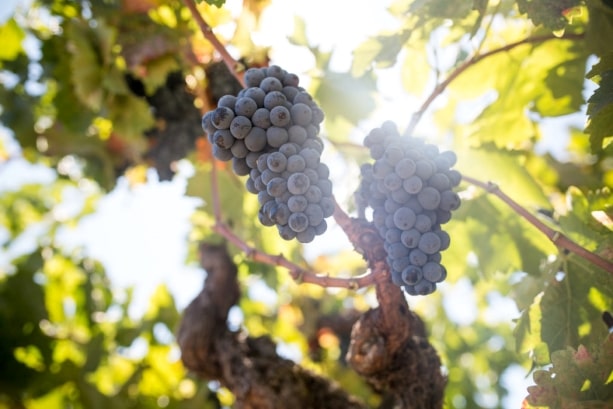 Carignan
Carignan, as its name suggests, is presumably of Spanish in origin, from around the town of Carineña west of Priorat in the province of Aragon.

Carignan, also known as Carginano in Italy and Cariñena or Mazeulo in Spain, is one of the most widely-planted red grapes in France. Planting became widespread in France during the 1960s, when Algeria gained its independence and was no longer an inexpensive source of red grapes. Languedoc-Rousillon is the bastion of Carignan in France, and it is also grown Provence, although it now gradually being replaced with more complex and characterful varieties such as Syrah and Grenache.

The berries are blue-black, with fairly thick, astringent skins Carignan buds and ripens quite late, so it is resistant to spring frosts, but requires a long ripening season and warm climate. It is a vigorous grape, which can result a wine of dull character.

Carignan is useful for adding intense colour, acidity, and fleshy tannins to the archetypal Southern French blends of Syrah, Grenache and Cinsault. Few select growers have managed to produce interesting, distinctive wines from this grape by carefully limiting the vine vigour and the yields.

Old Carignan vines (over 50 years) on a combination of low yields and suitable terroir can produce magnificently concentrated and characterful wine. The best expressions can be found in Priorat.