KNOLL GRUNER VELTLINER FEDERSPIEL 2021
Country: Austria, Wachau
Variety: 100% Grüner Veltliner
AWARDS
Falstaff 2018/19 91 points
The Wine Front: 92

Tasting Notes: 
Grüner Veltliner is the signature grape of Austria and produces a dry white wine with savory aromas, spicy flavors, and good acidity. Grüner Veltliner Federspiel from the Wachau is a medium-weight wine and is fresh in style with notes of green apple, lemon, radish, and arugula.
Food Pairing:
White Fish
EMMERICH KNOLL


Emmerich Knoll III, an exuberant spokesperson for the Wachau region, farms the family's 15 hectares of land and crafts wines that clearly express the Unterloiben terroir where some of Austria's most famous vineyards can be found. This family-run winery is a treasure that has been estate owned and operated for over three generations.  The majority of the Knoll's vineyard plantings are dedicated to Gruner Veltliner and Riesling, but the family also farms small amounts of Rivaner, Gelber Traminer, Pinot Noir and Chardonnay.  A member of "Vinea Wachau Nobilis Districtus," an association of Wachau winemakers who follow strict quality control rules, the Knoll Winery upholds stringent farming and winemaking standards that vintage after vintage propels their wines to the top of restaurant, collector and critic's lists.  Knoll wines are easily recognized by their distinct label that depicts an ornate image of St. Urban, the patron saint of winemakers and vineyards. While in the Wachau, one can also dine at the family's acclaimed, 400-year-old restaurant, Loibnerhof Familie Knoll.



Case Bottles: 6
Product Id: 0003

For orders €100,00 and above we deliver free to your place
For orders below €100,00 delivery charge €10,00
within city limits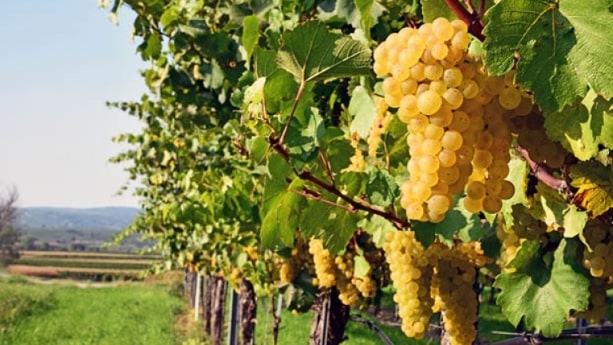 Grüner Veltliner
Grüner Veltliner is Austria`s most famous grape variety. It is indigenous to Austria and is grown extensively in every Austrian wine region with the exception of Steiermark. It constitutes 36% of all vineyard plantings with the best wines coming from the north-east of the country, particularly regions such as the Wachau, Kamptal and Kremstal which border the Danube River.

Grüner Veltliner is a late ripening variety that typically produces wines that are pale green in colour and display fruit notes of grapefruits, limes, pears, and sometimes hints of white pepper. They normally possess a steely backbone of acidity which enables the best bottles to age gracefully. The grape`s natural acidity accompanied by its restrained and understated fruit characters makes its wines ideal partners for food. A marvelous alternative to the more mainstream white grape varieties.