CHATEAU MOUTON ROTHSCHILD 2017
Country: France, Bordeaux, Pauillac
Grape Varieties: 90% Cabernet Sauvignon 9% Merlot 1% Petit Verdot
Scores:
97/100 Wine Spectator 
96/100 Robert Parker
98/100 James Suckling "Extremely perfumed Mouton with currants and crushed berries. Hints of roses and other flowers. Tight and extremely refined with ultra-fine tannins and cool yet rich currant character. The centre palate offers sweet cherries and hints of oak. Lightly sweet and sour. Fresh, balsamic note. It firms up at the end. Solid. A blend of 90% cabernet sauvignon, 9% merlot and 1% Petit Verdot. Try after 2025."

Château Mouton Rothschild spans 90 hectares (222 acres) of vines to the north-west of Bordeaux, on the edge of the Médoc peninsula, itself situated, as its name indicates, in medio aquae, amid the waters: those of the Gironde estuary to the east and of the Atlantic Ocean to the west. The Médoc vineyard, which dates back to Roman times, now covers around 16,500 hectares (41,000 acres). The vines are planted on a narrow strip of land 80 km long and 5 to 10 km wide, close to the river, which irrigates the soil in-depth and moderates differences in temperature. Bordering the northern limit of the Landes forest, the Médoc benefits from the mildness of the ocean climate while also being protected from its excesses.

Climatic conditions
After a relatively mild winter with below-average rainfall, the first major event in 2017 was a spring frost that hit the whole Bordeaux terroir on 27 April, though the Mouton vineyard was very fortunately spared. That was followed by a particularly lengthy drought, which did not truly end until December. Spurred by above-average temperatures, the vine growth cycle started slightly earlier than usual, at the end of March. Exceptional weather in April and May meant that flowering occurred 10 days earlier than the average for all varieties. After a very wet June, the summer was moderately sunny but dry, increasing a water deficit that started in 2016. As a result, the grapes remained small, with concentrated sugar and colour. With an early growth cycle and a dry summer, the 2017 harvest was particularly early. At Château Mouton Rothschild, it lasted from 7 to 29 September. Running-off ended on 20 October and blending was completed in December. The wines are rich, with a deep colour and an attractive tannic structure, full-bodied and pleasantly fresh even though 2017 is a solar vintage.


Tasting notes: The wine has a deep, dark colour with a garnet hue. The elegant and complex nose opens on wild berry aromas. With airing, notes of pepper, blackcurrant bud and dried flowers bring a satisfying sensation of harmony. The attack is fresh, clear-cut and well-structured, leading into a dense and full-bodied mid‑palate on fresh fruit flavours. Refined and mature tannins coat the palate, leaving an enduring impression of smoothness. A packed and balanced finish confirms that this is a wine full of promise.



Case Bottles: 6
Product Id: 0539

For orders €100,00 and above we deliver free to your place
For orders below €100,00 delivery charge €10,00
within city limits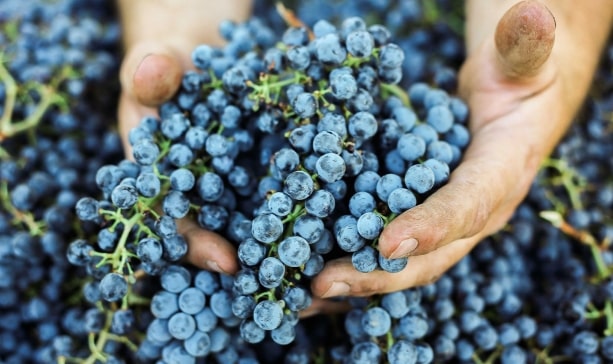 Cab.Sauvignon Blend
Cabernet Sauvignon lends itself particularly well in blends with Merlot. This is actually the archetypal Bordeaux blend, though in different proportions in the sub-regions and sometimes topped up with Cabernet Franc, Malbec, and Petit Verdot.

In the Médoc and Graves the percentage of Cabernet Sauvignon in the blend can range from 95% to as low as 40%. It is particularly suited to the dry, warm, free- draining, gravel-rich soils and is responsible for the redolent cassis characteristics as well as the depth of colour, tannic structure and pronounced acidity of Médoc wines. However 100% Cabernet Sauvignon wines can be slightly hollow-tasting in the middle palate and Merlot with its generous, fleshy fruit flavours acts as a perfect foil by filling in this cavity.

In St-Emilion and Pomerol, the blends are Merlot dominated as Cabernet Sauvignon can struggle to ripen there - when it is included, it adds structure and body to the wine. Sassicaia is the most famous Bordeaux blend in Italy and has spawned many imitations, whereby the blend is now firmly established in the New World and particularly in California and Australia.