MONTES SPARKLING ANGEL BRUT
Country: Chile, Zapallar Valley, Aconcagua, Valparaíso
Grape Varieties: Pinot Noir 70%, Chardonnay 30%
AWARDS
James Suckling: 91/100

For its origin: the Zapallar Vineyard, just 7 km from the Pacific Ocean. The coastal climate helps regulate growth and encourages very good varietal concentration in the grapes. Furthermore, the clay-loam soil of granitic origin delivers intense wines with great body, varietal flavor, and very good balance.

For its enology: Montes Sparkling Angel was crafted using the traditional method, also known as the "méthode champenoise," which is used in France to make champagne. Unlike other sparkling wines and traditional champagnes that age for one or two years, our Sparkling Angel rested on its lees for 36 months, which gives us a subtle sparkling wine that is sumptuous on the palate with delightfully fine and persistent bubbles and distinctive notes of walnuts, dried fruits, and bread crumbs.

For the Montes Angels: the team of viticulturalists and winemakers have turned their efforts and passion to making a sparkling wine of the highest quality. The very special and unique "Angels" have surely helped in the process

Tasting Notes: White flowers, fresh fruits, breadcrumbs, and light toast, with notes of dried fruit, hazelnut, and walnut aromas in nose. In palate is well balanced with good acidity and fine, crisp foam. Creamy and silky on the mid-palate with a fresh, fruity, and persistent finish.

Food Pairing: Seafood, Shellfish, Sushi, Salads, Desserts

It was made using the 'Traditional Method', also known as the méthode champenoise. Champagnes spend 24 months on their lees; for Montes Sparkling Angel, it is 36. The result is a subtle sparkling wine, sumptuous on the palate, with delightfully fine, lasting bubbles, and distinctive notes of walnut, dried fruit, and toasted bread crumbs.
Case Bottles: 6
Product Id: 0342

For orders €100,00 or more we deliver free to your place (within city limits)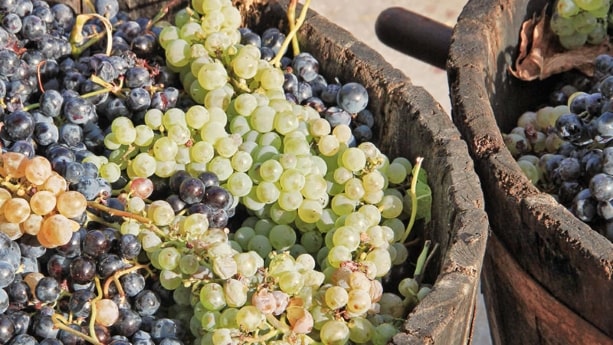 Champagne Blend
Which grapes are included in the blend, and their proportion, is one of the key factors determining the style of most Champagnes. Three grapes are used - Pinot Noir, Chardonnay and Pinot Meunier.

26% of vineyards in Champagne are planted with Chardonnay and it performs best on the Côtes des Blancs and on the chalk slopes south of Epernay. It is relatively simple to grow, although it buds early and thus is susceptible to spring frosts. It produces lighter, fresher wines than those from Burgundy and gives finesse, fruit and elegance to the final blend. It is the sole grape in Blancs de Blancs, which are some of the richest long-lived Champagnes produced.

Pinot Noir accounts for nearly 40% of the plantings in Champagne and lies at the heart of most blends - it gives Champagne its body, structure, strength and grip. It is planted across Champagne and particularly so in the southern Aube district.

The final component is Pinot Meunier and this constitutes nearly 35% of the plantings. Its durability and resistance to spring frosts make the Marne Valley, a notorious frost pocket, its natural home. It ripens well in poor years and produces a soft, fruity style of wine that is ideal for blending with the more assertive flavours of Pinot Noir.