MAISON HENRIOT BRUT ROSE
Country: France, Champagne
Grape Varities: 70% Grand Cru et Premier Cru grapes 40% Chardonnay, 50% Pinot Noir, 10% Pinot Meunier 12% blended rosé Champagne 35% reserve wines
Henriot Rosé is one of the House's most unexpected creations. After several years of testing, this cuvée officially joined Henriot's Champagne collection in the early 1980s, with the 7th generation of the family. Henriot Rosé is a quest for singular aromas, obtained by blending specific vintages and years.
Tasting Notes:
 Pale pink in appearance and tinged with copper, with a fine and persistent bead in the glass. On the nose, this Champagne may surprise you with its characteristic, complex intensity and appealing fruit-driven style. Red and dark berry fruit aromas of raspberry, strawberry and crunchy cherry, followed by freshly squeezed lemon, pink grapefruit and mandarin orange. Vegetal notes then follow in succession, offering blackcurrant bud and cloves, together with delicate iris-scented powder and finishing on delicious notes of candied fruits. Well-balanced on the palate, revealing incredible, unashamed persistence. Attractive balsamic and floral flavours pave the way for spicy notes, in a wave of great freshness. The tasting culminates in a lingering touch of sweetness.
Food Pairing:
Pork, Rich fish (salmon, tuna etc), Shellfish, Mild and soft cheese
Click here for Data Sheet



Case Bottles: 6
Product Id: 0418

For orders €100,00 and above we deliver free to your place
For orders below €100,00 delivery charge €10,00
within city limits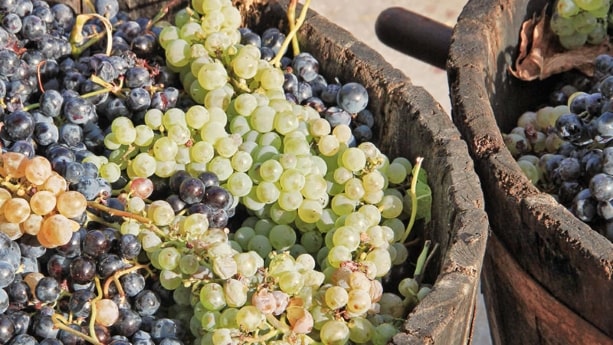 Champagne Blend
Which grapes are included in the blend, and their proportion, is one of the key factors determining the style of most Champagnes. Three grapes are used - Pinot Noir, Chardonnay and Pinot Meunier.

26% of vineyards in Champagne are planted with Chardonnay and it performs best on the Côtes des Blancs and on the chalk slopes south of Epernay. It is relatively simple to grow, although it buds early and thus is susceptible to spring frosts. It produces lighter, fresher wines than those from Burgundy and gives finesse, fruit and elegance to the final blend. It is the sole grape in Blancs de Blancs, which are some of the richest long-lived Champagnes produced.

Pinot Noir accounts for nearly 40% of the plantings in Champagne and lies at the heart of most blends - it gives Champagne its body, structure, strength and grip. It is planted across Champagne and particularly so in the southern Aube district.

The final component is Pinot Meunier and this constitutes nearly 35% of the plantings. Its durability and resistance to spring frosts make the Marne Valley, a notorious frost pocket, its natural home. It ripens well in poor years and produces a soft, fruity style of wine that is ideal for blending with the more assertive flavours of Pinot Noir.