BILLECART-SALMON BRUT RESERVE 37.5 CL
Country: France, Champagne
Grape Varieties: Champagne Blend
Appearance: This cuvée, with reflections of straw yellow, stands out by the finesse of its slowly rising bubbles and its persistent and abounding mousse.

Aroma: Maturity touched with floral freshness for this cuvée that breathes aromas of fresh fruit and ripe pears.

Palate: A full and accurate flavour combined with a fine freshness and a rich bouquet bear witness to the ageing of this cuvée in the House's traditional cellars.

Serving: The BILLECART-SALMON Brut Réserve is the ideal partner for every occasion. It is perfect as an aperitif and can be enjoyed with a wide variety of dishes.


Case Bottles: 12
Product Id: 0126

For orders €50,00 and above we deliver free to your place
For orders below €50,00 delivery charge €10,00
within city limits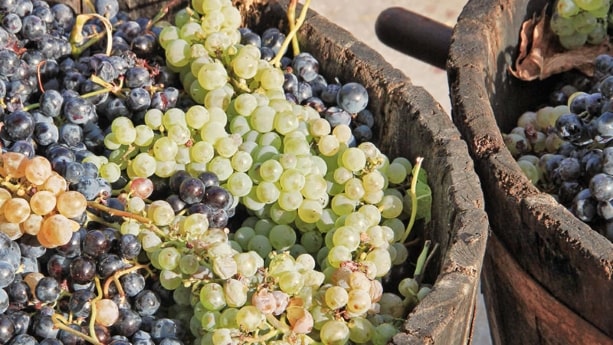 Champagne Blend
Which grapes are included in the blend, and their proportion, is one of the key factors determining the style of most Champagnes. Three grapes are used - Pinot Noir, Chardonnay and Pinot Meunier.

26% of vineyards in Champagne are planted with Chardonnay and it performs best on the Côtes des Blancs and on the chalk slopes south of Epernay. It is relatively simple to grow, although it buds early and thus is susceptible to spring frosts. It produces lighter, fresher wines than those from Burgundy and gives finesse, fruit and elegance to the final blend. It is the sole grape in Blancs de Blancs, which are some of the richest long-lived Champagnes produced.

Pinot Noir accounts for nearly 40% of the plantings in Champagne and lies at the heart of most blends - it gives Champagne its body, structure, strength and grip. It is planted across Champagne and particularly so in the southern Aube district.

The final component is Pinot Meunier and this constitutes nearly 35% of the plantings. Its durability and resistance to spring frosts make the Marne Valley, a notorious frost pocket, its natural home. It ripens well in poor years and produces a soft, fruity style of wine that is ideal for blending with the more assertive flavours of Pinot Noir.