BILLECART - SALMON CUVEE ELISABETH 2008
Country: France, Champagne
Grape Varieties: Champagne Blend
BRUT ROSÉ MILLÉSIME 2008
Depth and Complexity

The Cuvée Elisabeth Salmon 2008 vintage is the expression of the finest Pinot Noir and Chardonnay terroirs. It offers a unique and sensorial experience, the fruit of more than a decade of patience.

Appearance: Its appearance is luminous, with soft, coppery shimmers and a sustained salmon pink hue.

Palate: A measured strength that is delicate and charming at the same time, with the harmonious maturing of flavours (mandarin, blood orange, and Reinette apple tart). An ample and full character in the mouth unveiling a chalky edge and persistent finish of citron zest as well as red and white currants.

Aroma: There is a refreshing sensorial experience of citrus peel and red berry jelly. With the exquisite sensation of a rich and complex aromatic generosity (Plougastel and Mara des Bois strawberries, pêche de Vigne). Pretty, refined and mature olfactory notes that bring out the inimitable fragrances of sweet spices and wild raspberry pulp.

Tasting: This great and highly refined wine presents its personality with the wonderful delicacy of texture and flavour. The aromatic charm of a rare mineral aspect to pair with beautiful poulet de Bresse with crayfish or a few Breton langoustines royales.


Product Id: 0375

For orders €50,00 and above we deliver free to your place
For orders below €50,00 delivery charge €10,00
within city limits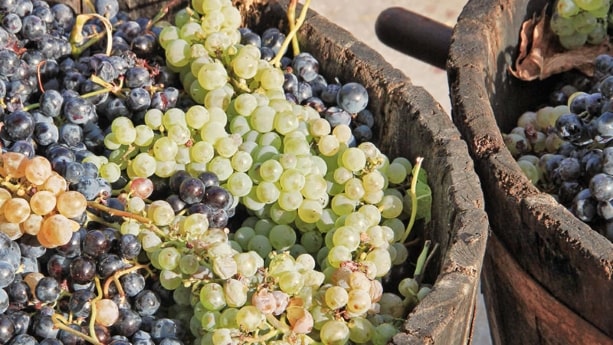 Champagne Blend
Which grapes are included in the blend, and their proportion, is one of the key factors determining the style of most Champagnes. Three grapes are used - Pinot Noir, Chardonnay and Pinot Meunier.

26% of vineyards in Champagne are planted with Chardonnay and it performs best on the Côtes des Blancs and on the chalk slopes south of Epernay. It is relatively simple to grow, although it buds early and thus is susceptible to spring frosts. It produces lighter, fresher wines than those from Burgundy and gives finesse, fruit and elegance to the final blend. It is the sole grape in Blancs de Blancs, which are some of the richest long-lived Champagnes produced.

Pinot Noir accounts for nearly 40% of the plantings in Champagne and lies at the heart of most blends - it gives Champagne its body, structure, strength and grip. It is planted across Champagne and particularly so in the southern Aube district.

The final component is Pinot Meunier and this constitutes nearly 35% of the plantings. Its durability and resistance to spring frosts make the Marne Valley, a notorious frost pocket, its natural home. It ripens well in poor years and produces a soft, fruity style of wine that is ideal for blending with the more assertive flavours of Pinot Noir.