BILLECART-SALMON NICOLAS FRANCOIS 2007
Country: France, Champagne
Grape Varieties: Champagne Blend
AWARDS
James Suckling: 96
Wine Spectator: 95

Appearance: A lovely colour of sparkling yellow gold veiled in soft golden reflections. This very luminous and intense visual perception gives to the effervescence a rising of fine-cut bubbles.

Aroma: All the richness and subtlety of an aromatic curve enhances the maturity of the delicious fruit. Fine notes of praline from lightly roasted dried fruit (almonds, dried dates and grilled chestnuts), refined by the floral and sensory elegance of a touch of infusion (Lime-tree, Verbena).

Palate: The balance of a tension controlled by the blossoming of the wine (caramelised stonefruit, light tobacco) and embodied by the line of noble biscuity flavours. A truly unique and personal character showing real vinosity.

Tasting: This generous and powerful vintage, characterised by the elegant vinosity of a complex and mature wine, will be served at cellar temperature (11/12°C). It will expose the flavours of a beautiful creamy, roasted poultry or a delicious slice of milk-fed veal with mushrooms.


Product Id: 0164

For orders €50,00 and above we deliver free to your place
For orders below €50,00 delivery charge €10,00
within city limits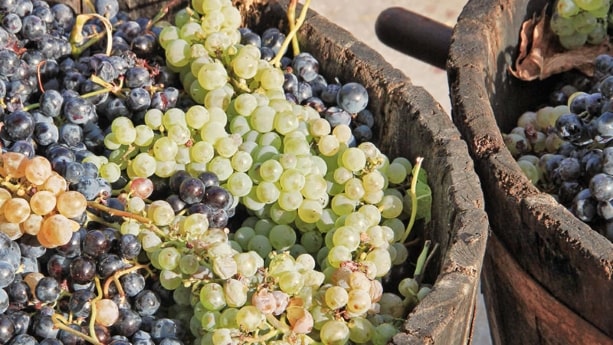 Champagne Blend
Which grapes are included in the blend, and their proportion, is one of the key factors determining the style of most Champagnes. Three grapes are used - Pinot Noir, Chardonnay and Pinot Meunier.

26% of vineyards in Champagne are planted with Chardonnay and it performs best on the Côtes des Blancs and on the chalk slopes south of Epernay. It is relatively simple to grow, although it buds early and thus is susceptible to spring frosts. It produces lighter, fresher wines than those from Burgundy and gives finesse, fruit and elegance to the final blend. It is the sole grape in Blancs de Blancs, which are some of the richest long-lived Champagnes produced.

Pinot Noir accounts for nearly 40% of the plantings in Champagne and lies at the heart of most blends - it gives Champagne its body, structure, strength and grip. It is planted across Champagne and particularly so in the southern Aube district.

The final component is Pinot Meunier and this constitutes nearly 35% of the plantings. Its durability and resistance to spring frosts make the Marne Valley, a notorious frost pocket, its natural home. It ripens well in poor years and produces a soft, fruity style of wine that is ideal for blending with the more assertive flavours of Pinot Noir.