BILLECART - SALMON VINTAGE 2009
Country: France, Champagne
Grape Varieties: 40% Pinot Noir, 33% Chardonnay and 27% Pinot Meunier
Appearance: The yellow colour has soft golden undertones, naturally enhanced by a fine, dynamic effervescence. A shining, very radiant effect that brings out the full potential of nine years of maturation in our ancestral chalk cellars.

Aroma: The delicious intensity of precise fruit with citrusy and nutty notes (grapefruit pulp, slivered almonds). A nuanced sensory development built around pastry scents (raw butter, white fruit jelly). A masterful aromatic expression with a refined, refreshing purity

Palate: A nervy, charming, tactile delight (chestnut cream, fresh blueberries and shortbread), emphasized by a delicate texture. The wine rises to a distinguished complexity with a persistent finale, crisply structured by the high-quality potential of such a sought-after vintage.

Tasting: A deeply sculpted vintage with a noble, exquisitely distinctive character. Enjoy to the fullest with red tuna, papaya and avocado, or with pan-fried foie gras, peaches, verbena, rhubarb and verjuice (prematurely harvested grape juice). Service temperature: 11–12° C.


Product Id: 0450

For orders €50,00 and above we deliver free to your place
For orders below €50,00 delivery charge €10,00
within city limits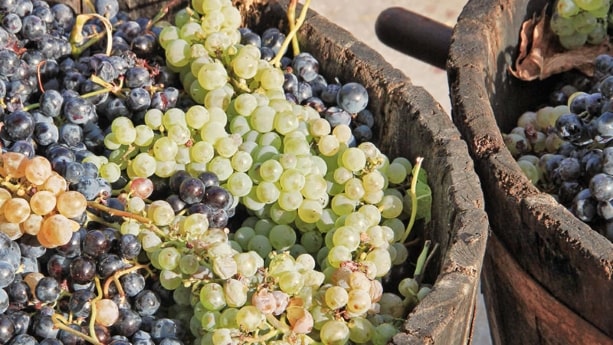 Champagne Blend
Which grapes are included in the blend, and their proportion, is one of the key factors determining the style of most Champagnes. Three grapes are used - Pinot Noir, Chardonnay and Pinot Meunier.

26% of vineyards in Champagne are planted with Chardonnay and it performs best on the Côtes des Blancs and on the chalk slopes south of Epernay. It is relatively simple to grow, although it buds early and thus is susceptible to spring frosts. It produces lighter, fresher wines than those from Burgundy and gives finesse, fruit and elegance to the final blend. It is the sole grape in Blancs de Blancs, which are some of the richest long-lived Champagnes produced.

Pinot Noir accounts for nearly 40% of the plantings in Champagne and lies at the heart of most blends - it gives Champagne its body, structure, strength and grip. It is planted across Champagne and particularly so in the southern Aube district.

The final component is Pinot Meunier and this constitutes nearly 35% of the plantings. Its durability and resistance to spring frosts make the Marne Valley, a notorious frost pocket, its natural home. It ripens well in poor years and produces a soft, fruity style of wine that is ideal for blending with the more assertive flavours of Pinot Noir.