MAISON HENRIOT CHAMPAGNE MILLESIME 2012
Country: France, Champagne
Grape Varieties: 54 % Chardonnay and 46 % Pinot Noir 
6 crus: 100% Premiers and Grands Crus Trépail, Mailly-Champagne, Verzenay, Avenay in Montagne de Reims Avize, Chouilly in Côtes des Blancs
When Apolline Henriot founded the House in 1808, she decided to create a Champagne that would allow her to shine a light on all her vineyards through the blend of several crus and years, giving birth to the very first cuvée of the House, Henriot Brut Souverain. She also wanted to pay tribute to nature through a vintage Champagne, Henriot Millésime, which is the interpretation of a singular year, the reflection of the Terroirs characteristic of that year, according to the House. Thus, each vintage is a unique creation, with its own selection of wines for the blend and its own specific aromatic expression.
Tasting Notes: Henriot Millésime 2012 is characterized by aromatic heterogeneity and complexity. The first nose is intense, almost heady. Yet it is counterbalanced a few seconds later by an incredible elegance with airy and floral notes. The wine is in motion with a succession of the following aromatic notes: summer flowers, meringue, ripe fruits, then fresh summer currants, chalk, minerality, patina... it is an endless impetus. On the palate, it's the same ballet coming together, which makes this champagne creation so unique and compelling.

Click here for Data Sheet


Case Bottles: 6
Product Id: 0488

For orders €50,00 and above we deliver free to your place
For orders below €50,00 delivery charge €10,00
within city limits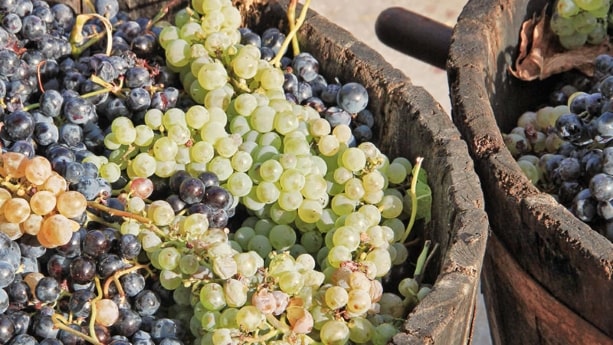 Champagne Blend
Which grapes are included in the blend, and their proportion, is one of the key factors determining the style of most Champagnes. Three grapes are used - Pinot Noir, Chardonnay and Pinot Meunier.

26% of vineyards in Champagne are planted with Chardonnay and it performs best on the Côtes des Blancs and on the chalk slopes south of Epernay. It is relatively simple to grow, although it buds early and thus is susceptible to spring frosts. It produces lighter, fresher wines than those from Burgundy and gives finesse, fruit and elegance to the final blend. It is the sole grape in Blancs de Blancs, which are some of the richest long-lived Champagnes produced.

Pinot Noir accounts for nearly 40% of the plantings in Champagne and lies at the heart of most blends - it gives Champagne its body, structure, strength and grip. It is planted across Champagne and particularly so in the southern Aube district.

The final component is Pinot Meunier and this constitutes nearly 35% of the plantings. Its durability and resistance to spring frosts make the Marne Valley, a notorious frost pocket, its natural home. It ripens well in poor years and produces a soft, fruity style of wine that is ideal for blending with the more assertive flavours of Pinot Noir.